Skip to Content
Top-Rated House Cleaning Service in Olathe, KS
Quality Olathe House Cleaning & Maid Services for Your Home
Need a local house cleaning service in Olathe, KS? Our professional maids can help!
At Mini Maid of Johnson County, we understand how challenging weekly or bi-weekly house cleaning for your Olathe home can be for you, especially when obligations stand in your way. Whether you are tired of fighting the continuous mess, or you simply want to make your life a little more convenient, keeping your house clean can be a lofty goal. Let our maid services in Olathe, KS make your life easier!
With the Olathe house cleaning pros at Mini Maid Of Johnson County, you can rely on our highly-capable team of maids for all the cleaning service help you need. When you're on the hunt for local, professional, and versatile house cleaning services in Olathe, KS, call us! We clean everything from kitchens and bathrooms to scrubbing floors and removing cobwebs. Our top-rated local Kansas City maids provide quality house cleaning services in Overland Park, Lenexa, Olathe and Johnson County, guaranteed to leave you satisfied with the results.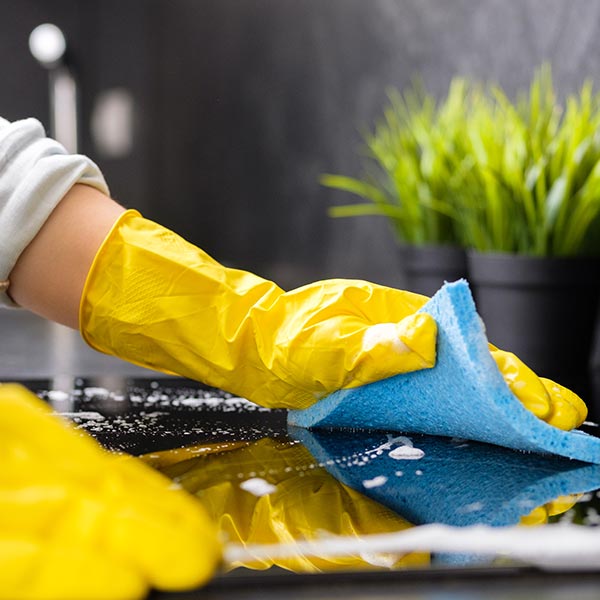 Professional Maids From A Local Cleaning Company in Olathe, KS
House Cleaning leaning isn't a one-size-fits-all application. When you want a property that shines, you want what we have to offer. Our Olathe maids are experts, delivering a flawless clean from basement to attic, and everywhere in between. There's no job we can't do, and we guarantee the quality of all our work. Enjoy our many residential home cleaning opportunities, including:
General housekeeping services
Dusting and cobweb removal
Mopping and vacuuming
Cleaning doors
Making beds and changing linens
Cleaning ceiling fans, plantation shutters, and blinds
Bathroom cleaning and sanitizing
Kitchen cleaning and sanitizing
Cleaning and shining appliance exteriors
Reliable & Experienced House Cleaning Services
For your kitchen, Mini Maid of Johnson County's professionally-trained Johnson County house cleaning team arrives at your home equipped, supplied, and ready to serve you with your home care and kitchen cleaning needs.
For your bathrooms, our team of experts uses non-toxic, non-caustic, non-aerosol, non-bleaching, eco-friendly chemicals to provide a sanitized, safe environment for your home, children, and pets. For your floors, all your hard surface floors are properly vacuumed, and then mopped with your product of choice.
Benefits of Hiring A Local Maid Service
You might believe that house cleaning services or hiring a maid is too expensive or not worth it, but this is hardly ever true. Below, we have made a list of the key benefits that you can enjoy from hiring a professional house cleaning company to handle the cleaning your house to make it sparkling clean!
1. A Cleaner Home
The most important and most obvious benefit you will receive is that your home will be clean, which is something that your entire family deserves. Most people lead very busy lives these days, as we try to get everything done in the short free hours we all have. Hiring a cleaning service help can give you peace of mind knowing that you don't have to do this task and it will be one less thing that you have to worry about. After working hard all day long, you can simply come home and start to plan your next day or just relax.
2. You Don't Need To Have Supplies On Hand
If you plan to hire a recurring house cleaning services you won't need to worry about keeping cleaning supplies stocked. That is because cleaning professionals bring their cleaning supplies with them. You can always keep some tile cleaner or Windex on hand if you want to do a bit of touch up, but you won't use up a bunch of your cleaning supplies all the time. Cleaning supplies can be expensive and over time it adds up, so that is one way to reduce your expenses.
3. The Cleaning Is Being Done By Professionals
Paying for an Olathe house cleaning service means that a paid professional will come to your house to do the job. When you clean your own house it is viewed as a headache and chore so you can have a tendency to rush through things. Professionals do not rush through a cleaning they are being paid to perform. If the person cleaning your house is doing that then we recommend you switch to a different cleaning company.
4. Increased Free Time
This is a major reason why you might want to pay a professional to clean your house for you. It gives you increased free time! Rather than spending several hours each week cleaning your house, you can instead spend this time on things you have been putting off or would rather be doing. Perhaps you don't have something specific that needs to be done, but cleaning is still not something you want to do. You will finally have time to rest and relax. Catching up on some rest can give you increased energy for future tasks as well!
5. Cleaning Eliminates Germs and Bacteria
With members of your family coming and going all of the time they will be introducing and spreading lots of bacteria and germs. If you keep your house clean it will minimize and reduce germs that can cause you and your family to become ill. When your house is clean it will keep you healthier & make you feel better overall as well. Even small touch-ups can help to reduce the build-up of germs that can happen in a short period of time.
6. Professionals Know How to Clean Better
Maybe you think you know your house better than a professional maid in Olathe, KS. That might be true, however, there are things in your house that you most likely have a tendency to overlook since those are areas you don't like cleaning or don't know how to clean, such as your ceiling fans. Many areas in your home that are hard to reach have a tendency to be forgotten and over time more dirt and dust will build up and make you want to give up. A maid professional will ensure that everything is cleaned that needs it.
7. Pet Smells Are Eliminated or Reduced
From cats and dogs to rats and birds, pets can all cause your house to smell bad. Having a clean house will help to eliminate those smells coming from your pets. There is nothing worse than guests coming over and needing to deal with a messy birdcage or smelly kitty litter. Having your house cleaned on a regular basis will keep those unwanted pet smells from returning.
8. Things You Skip Will Be Cleaned Finally
We have all done this… there are just some things that need to be cleaned that we are too lazy to deal with. Whether it is wiping down all of your baseboards, or dusting your chandelier, you hate doing it or it's terribly inconvenient. When you hire house cleaning professionals you can tell them precisely what needs to be done. Since you are paying for their services they will need to do it. No more mental or physical time will be wasted on dreading doing things that you hate to do since someone else is doing it now.
9. Professionals Have An Efficient System
Maybe you start in your kitchen and then randomly work your way through the house since you think that works. However, you might be doubling or tripling your work and time cleaning. A professional maid will have a system when they show up at your house along with a checklist of things that should be done. They can work more efficiently, thanks to their system, to get the job done in much less time.
10. Professional Know Which Supplies To Use on Which Surfaces
You have furniture, tiles, and appliances that are all made out of various materials, so you definitely can't use the same cleaner on all of them. You also don't want to use something that can leave marks and scratches. Professional Olathe house cleaners know what cleaning products to use on all surfaces and what products should be avoided. This will ensure that everything in your house is in optimum condition and properly cleaned.
You might be debating on whether or not you should hire a house cleaning company to maintain your home. Hopefully, we have helped to guide you in the right direction to fit your personal needs & lifestyle at this time.
Frequently Asked Questions (FAQs)
See our team's answers to the most popular cleaning and maid service FAQs below, and if you have a question that is not answered below, give us a phone call, we will be happy to help you and give you a free Olathe house cleaning quote if you would like one!
Why Should I Hire Mini Maid of Johnson County?
With over 40 years of experience, our team of professionally-trained maids and dedicated house cleaners provide the highest quality work, leaving our clients with spotlessly clean homes.
Do I Need To Be Home During A Cleaning?
No, you do not need to be home during a scheduled house cleaning. We do ask that you please coordinate a way for our maids to safely enter your home.
Can Pets Be Home During A Cleaning?
Yes, pets can be home during a scheduled cleaning. We ask that you please communicate if you have a pet before the time of service so our Olathe maid service professionals know beforehand.
Is The Price Going Forward the Same Price as the 1st Cleaning?
No, after your initial house cleaning visit, you will have a set rate depending on if you would like regular weekly, bi-weekly or monthly cleanings.
How Do Your Maid Services Work?
We offer house cleaning, move-in and out cleaning, and commercial cleaning. If you need your home or property cleaned, for whatever reason, we can help!
What Are My Payment Options?
We accept credit cards, checks, or cash as forms of payment for our house cleaning services.
Do You Provide Cleaning Products?
Yes, the local Mini Maid of Johnson County cleaning team will provide everything for cleaning except the floor cleaner.
About Our Olathe Cleaning Service
Mini Maid of Johnson County prides itself on delivering quality maid and cleaning services in Olathe, KS, and the Kansas City metro area. With our focus on great customer service, our local customers always come first. With over 40 years of experience, we know that a great staff of maids and experienced cleaning professionals are the keys to providing top-notch, professional house cleaning services.
Specializing in house cleaning, move-in and out cleaning, and commercial cleaning, we happily clean it all! We aim to be the premier maid and cleaning services in Johnson County. Because of this, we handpick our staff to ensure they have a proven track record of great service within the cleaning industry. Along with a thorough background check, our employees participate in a rigorous training program to help them become accustomed to our standard for professional cleaning service. We have also been family-owned and operated since 1979 when we started serving the area as a local cleaning service in Olathe, KS and the KC metro.
We proudly offer experienced cleaning and maid services in Olathe, KS, and the surrounding Johnson County, KS area. Get your free house cleaning service quote below!
Request a Free Cleaning Quote