Skip to Content
Top-Rated Leawood House Cleaning & Maid Services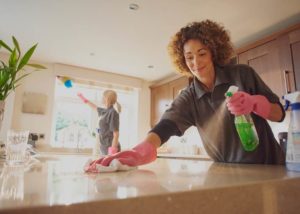 Your life just got easier!
At least when it comes to house cleaning that is. When you partner with our Leawood housecleaners, you get the benefit of our skilled local team of maids coming to your home (however frequently you want) and giving it a professional polish. You have enough on your plate without having to deal with the added worry of keeping your home clean. Free up your hours and let our team do the heavy lifting for you. From vacuuming to cleaning under your bed, our Leawood house cleaning specialists can handle it.
Professional Maids & House Cleaners in Leawood, KS
People on a busy schedule are often too busy to do much more than a light cleaning of their home, apartment or condo. Our professional Leawood home and apartment cleaners are thorough, friendly, and efficient in their jobs. They are well trained, friendly, and have the experience to get your apartment into tip-top shape for everyday use or a final clean to prepare for inspections after moving out.
At Mini Maid of Johnson County, we are proud to serve our clients and to deliver truly extraordinary results with every deep home clean in Leawood, KS. Our team of hardworking cleaning service professionals always do their best work and focus on quality throughout every room in your home. We know how important it is for our clients to have a clean home environment, and our maids it easier for you to enjoy the results that you need.
A Clean Home Is A Happy Home
Unfortunately for many local residents, it can take extensive time and energy to get the clean home that they need and want. At Mini Maid of Johnson County, we proudly provide you with a better solution for getting a spotless home. From your first booking experience through Mini Maid of Johnson County and for years to come, you can expect each cleaning with our top-rated cleaners to be exceptional. We are the maid company that you want to reach out to for all of your cleaning needs. Your Mini Maid experience begins when you take advantage of our simplified booking process. You can call about the cleaning services that you desire at this time as well as your preferred service date and time. Our home cleaning system is seamless, which means that you can count on a friendly, qualified team to arrive on time and to work diligently until we produce results that meet your expectations.
We proudly offer experienced cleaning and maid services in Leawood, Overland Park, Olathe, KS, and the surrounding Johnson County area.
Get your free Leawood house cleaning service quote by calling us at 913-894-2200 today!