Skip to Content
House Cleaning in Overland Park, KS
Overland Park Home Cleaning & Maid Services
At Mini Maid of Johnson County, we understand how challenging weekly or bi-weekly house cleaning for your Overland Park home can be for you, especially when obligations stand in your way. Whether you are tired of fighting the continuous mess, or you simply want to make your life a little more convenient, keeping your house clean can be a lofty goal.
With the Overland Park house cleaning pros at Mini Maid Of Johnson County, you can rely on our highly-capable team of maids for all the cleaning service help you need. When you're on the hunt for local, professional, and versatile house cleaning services in Overland Park, KS, call us! We clean everything from kitchens and bathrooms to scrubbing floors and removing cobwebs. Our top-rated Overland Park maids provide quality house cleaning services guaranteed to leave you satisfied with the results.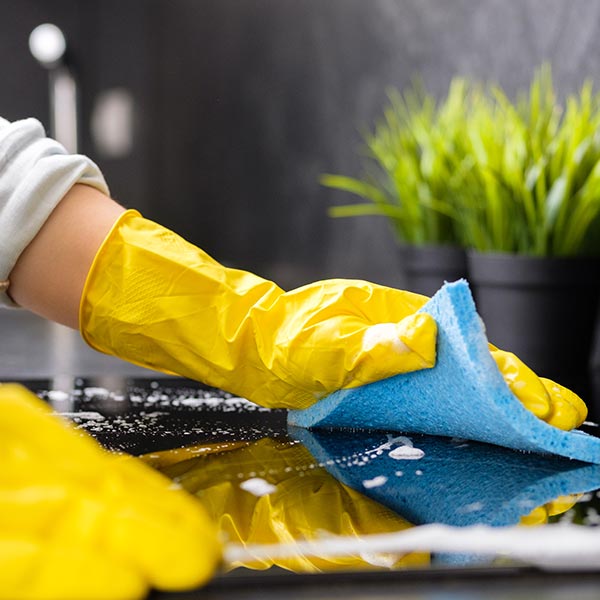 Professional Cleaning Company Services
Cleaning isn't a one-size-fits-all application. When you want a property that shines, you want what we have to offer. Our local maids are house cleaning experts, delivering a flawless clean from basement to attic, and everywhere in between. There's no job we can't do, and we guarantee the quality of all our work. Enjoy our many residential cleaning opportunities, including:
General housekeeping services
Dusting and cobweb removal
Mopping and vacuuming
Cleaning doors
Making beds and changing linens
Cleaning ceiling fans, plantation shutters, and blinds
Bathroom cleaning and sanitizing
Kitchen cleaning and sanitizing
Cleaning and shining appliance exteriors
Reliable & Experienced House Cleaning in Overland Park, KS
For your kitchen, Mini Maid of Johnson County's professionally-trained Johnson County house cleaning team arrives at your home equipped, supplied, and ready to serve you with your home care and kitchen cleaning needs.
For your bathrooms, our team of experts uses non-toxic, non-caustic, non-aerosol, non-bleaching, eco-friendly chemicals to provide a sanitized, safe environment for your home, children, and pets. For your floors, all your hard surface floors are properly vacuumed, and then mopped with your product of choice.
Benefits of Hiring A Local Maid Service
A lot of people believe the only benefit of hiring an Overland Park house cleaning or maid service is that you have a clean house after they've visited. This is definitely true, however, it's not the only benefit to hiring a cleaning service. See our top 5 benefits to hiring a maid service below.
1. A Cleaner House
The first benefit is definitely obvious, when you hire a local maid… you get a clean house! This is beyond just the kind of clean house you are used to though, when you hire a professional house cleaner. you come home to a level of clean that's deeper than what you're used to seeing. After all, when you clean your own home, you're probably rushed or distracted because you're also thinking about work, cooking dinner, etc. When a professional Overland Park maid comes in to clean they can get your house sparkling because that's their one and only focus.
2. Time To Relax & De-Stress
A housecleaning service gives you time to relax. If you add up how many hours you spend cleaning every week, it would be quite a lot! Now imagine if you got all of that time back. A lot of times we don't realize how stressful it can be to have the obligation of house cleaning weighing on our shoulders. That sigh of relief you give when you've made your way through a pile full of dirty dishes is how you should get to feel every time you come home from a long day after a maid service has cleaned your home.
3. More Joy & Organization In Your Home
60% of people are less stressed when they are in a clean space and 72% are more productive. Marie Kondo is on to something with the clutter-free space idea. Hiring a house maid gives you the opportunity to keep your house clutter down and your mental health up. Plus when you have to clean less, you have more free time to keep your space organized and spark joy in your life.
4. Improved Social Life
Would you invite people over more often if you didn't have to stress about them seeing your dirty kitchen? Do you cringe at the idea of anyone noticing your gross bathroom? A housemaid frees up more of your time to relax. However, they also offer a clean space that feels fun to invite your friends, family, and loved ones into. The only way that new book plus a glass of wine could get better is if you added all your book club gals into the mix!
5. A Healthier Home
We all want our homes in Overland Park, KS to be as happy and healthy as possible. A dirty house often means there are built-up allergens like dust or even mildew that can occur. If you have kids they probably bring a lot of germs home with them from school. Not to mention, where there are kids there are dirty shoes, filthy hands, spills, and stains galore. A clean house is a healthy space to be, which is why a maid cleaning service is great for more than just your mental health.
We proudly offer experienced cleaning and maid services in Overland Park, KS, and the surrounding Johnson County, KS area. Get your free house cleaning service quote below!
Request a Free Cleaning Quote